2019 VSPD Continuing Education and Annual Business Meeting
Topics: Sedation, Opiates, Airways
Date: April 12, 2019
Time: 7:30am – 4:30pm
Location: Hilton Downtown Richmond
Register below:
Agenda
8:15 – 11:30am – "Pediatric Sedation"
David L. Rothman, DDS
Owner-Operator, David L. Rothman, DDS (San Francisco, CA)
Associate Clinical Professor, Case Western Reserve University, School of Dental Medicine
Objectives: TBD
Dr. Rothman is a Board Certified Pediatric Dentist in private practice in San Francisco and an Associate Clinical Professor at Case Western Reserve University. He completed a GPR at Albert Einstein Medical Center in Philadelphia and Anesthesia Residency at the Medical College of Pennsylvania. He completed his Pediatric Dentistry Residency at Children's Hospital Oakland and University of California San Fransicso. He is Past-Chair of Pediatric Dentistry at the University of the Pacific Arthur A. Dugoni School of Dentistry and has been President of the College of Diplomates of the American Board of Pediatric Dentistry and the California Society of Pediatric Dentistry. He is Vice President of the American Dental Society of Anesthesiology. He is a member of Omicron Kappa Upsilon, Pierre Fauchard Academy, International College of Dentists and American College of Dentists as well as a Fellow of the American Academy of Pediatric Dentistry. He lectures and publishes internationally on pediatric dentistry, anesthesia and sedation.
11:45am – 12:45pm – Lunch and VSPD Annual Business Meeting
Meeting Agenda: TBA
1:00 – 3:00pm – "Use of Prescription Opioids for Pain Management"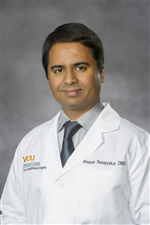 Shravan Renapurkar, DMD
Assistant Professor, VCU Department of Oral and Maxillofacial Surgery
Learning Objectives: 1) Learn about the epidemiology of opioid epidemic in US and role of prescription opioids, 2) Review the current VA state regulations on use of prescription opioids and develop familiarity with use of Prescription Monitoring Program (PMP), 3) Know about assessment and anticipation of post-procedural pain, 4) Learn about best practices in pain management after oral procedures with emphasis on pediatric patient population
Dr. Renapurkar is an Assistant Professor in Department of Oral and Maxillofacial Surgery (OMFS) at Virginia Commonwealth University School of Dentistry. He earned his Doctor in Dental Medicine (D.M.D) degree at Boston University. Prior to this he completed a Bachelor of Dental Surgery degree at Government Dental College and Hospital, Hyderabad, India. He continued his education at University of Minnesota School of Dentistry, where he completed his residency program in Oral and Maxillofacial Surgery. Prior to joining VCU as a full time faculty in 2015, Dr. Renapurkar pursued a one-year fellowship in Pediatric Oral and Maxillofacial Surgery at Massachusetts General Hospital, Boston, MA.
Dr. Renapurkar has published several peer reviewed articles and book chapters, as well as lectured at local study clubs, state and national professional meetings. He is a Diplomate of the American Board of Oral and Maxillofacial Surgery, a Fellow of the American Association of Oral and Maxillofacial Surgeons and American College of Oral and Maxillofacial Surgery. He is not only involved in undergraduate and graduate OMFS education but has been an active speaker at VCU School of Dentistry continuing education courses for the past 3 years.
3:15 – 4:15pm – "Pediatric and Developing Airway"
James J. Danerio, MD, MS
Director, UVA Laryngology and Voice Care
Assistant Professor, UVA Department of Otolaryngology – Head and Neck Surgery
This multimedia presentation will familiarize dentists with normal airway anatomy, development, and congenital abnormalities. At the end of the presentation clinicians will be able to 1) recognize risk factors for airway complications in the clinic and operative settings; 2) describe congenital airway abnormalities and their impact on the anesthetic plan; and 3) develop an appropriate emergency airway intervention plan and be familiar with techniques to secure a definitive airway in the setting of obstruction.
Dr. Daniero is a fellowship-trained laryngologist at UVA. He specializes in the medical and surgical treatment of laryngeal disorders, including care of the professional voice. Dr. Daniero established the Laryngology Division within the Department of Otolaryngology-Head and Neck Surgery and currently leads a team of clinicians and researchers within the University dedicated to improving the lives of patients with laryngeal disorders.
Dr. Daniero received his undergraduate education at Bucknell University in central Pennsylvania, followed by a master's degree in biotechnology from Georgetown University. He then worked on health care policy for several years at the Institute of Medicine of the National Academies in Washington, D.C. Feeling a need to more directly affect patient care, he went on to pursue medical training at Eastern Virginia Medical School in Norfolk. His training then took him to Pennsylvania, where he completed his internship and residency training in otolaryngology-head and neck surgery at Thomas Jefferson University Hospital in Philadelphia. Afterward, he sought out special fellowship training in laryngology and care of the professional voice at the prestigious Vanderbilt Voice Center in Nashville, Tennessee.
Dr. Daniero joined the faculty at UVA in 2014 and quickly established the interdisciplinary Voice and Swallowing Clinic. Dr. Daniero's team is devoted to providing real-time interdisciplinary care for voice, airway and swallowing problems. To maximize convenience and value for patients, he offers many state-of-the-art diagnostic tests and laryngeal procedures right in the office.
Dr. Daniero is a leader in the field of laryngology and stays involved on the national level through active membership in a variety of organizations, including as a founding member of the North American Airway Collaborative (NoAAC), which works to disseminate information concerning the treatment of adult airway diseases. His basic science research is focused on voice science, laryngotracheal stenosis, tracheal transplantation and tissue engineering of the larynx. He has a particular interest in health care technology development that stems from his biotechnology roots.
When Dr. Daniero is not busy treating patients or working in his laboratory, he enjoys restoring antique cars and hiking the Blue Ridge Mountains with his family.
---
Other Meetings
American Academy of Pediatric Dentistry, Annual Session
Southeastern Society of Pediatric Dentistry, Annual Meeting
Other District and State Pediatric Dentistry Chapters
American Dental Association, Annual Session
Virginia Dental Association, The Virginia Meeting
Other National, State and Local Dental Societies